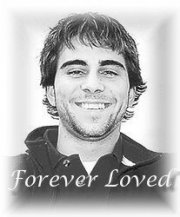 In Loving Memory of
Timothy James Pereira DASILVA
July 28, 1985 – July 15, 2006

10 Years Gone
10 years since our world fell apart;
the most tragic day when suddenly you were gone
No time to say goodbye,
you were gone before we knew it
but you didn't go alone
for all of our Love went with YOU
People say there is a reason and that time will heal,
but neither time nor reason will change the way we feel.
For no-one knows the heartache
that lies behind our smiles
No-one knows how many times
we havebroken down and cried.
In our hearts you live because to us
You never died.

Your Memory we will always keep alive.
Forever our Champion
#106
Ride in Paradise Angel
Until we all meet again...

We LOVE YOU & MISS YOU so much TIM!
With Our Love,
Mom Zira (Andy),
Dad Manny(Mandy),
Sister Jessica and Brother-in-Law Jason,
Brother Christopher and Sister-in-Law Robin,
Niece/Godchild Adriana,
Nieces Alyssa and Juliana,
Nephew Nicholas James,
Grandparents Alice and Alfredo DaSilva,
Grandmother Raquel Pereira,
Uncles, Aunts and Cousins.